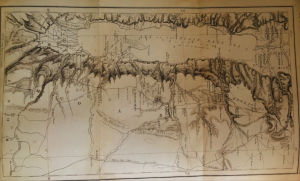 خريطة مؤاب من تشارلز وارين و إدوارد هنري بالمر، البيان الربع السنوي لصندوق الإستكشاف الفلسطيني،المجلد الأول، رقم 11، نيسان 1871
إحدى أُولى الخرائط العلمية لشرق نهر الأردن.
Map of Moab، from Charles Warren and Edward Henry Palmer,the PEF quarterly statement, first volume – No. II, April 1871. One of the earliest scientific maps east of the River Jordan.
بحث : د.رزان أبو جابر.
ترجمة : عائشة أحمد الصمادي.