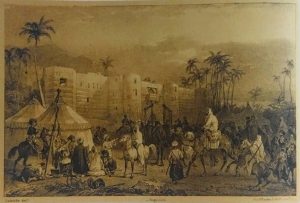 The caravan from Mecca entering the fortress of Aqaba. Lithograph from Leon de Laborde، 'Journey through Arabia Petraea، 1836'. The same work appears in Laborde's earlier work 'Voyage de l'Arabie Petree، 1830'.
قافلة من مكة المكرمة تدخل حصن العقبة. عمل فني استخدم فيه أسلوب الطباعة الحجرية (رسم على حجر أملس بألوان زيتية أو شمعية ) من عمل ليون دي لابوردي، " رحلة عبر بيترايا العربية عام 1836″.
تظهر نفس اللوحة في عمل سابق للابوردي تحت اسم " رحلة لبترايا العربية ، عام 1830″.
بحث: رزان أبو جابر.
ترجمة: عائشة أحمد الصمادي.